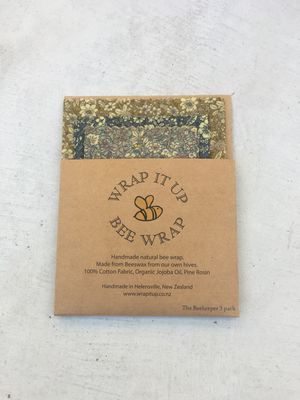 Beeswax Wraps - Beekeeper 3 Packs
Wrap It Up Bee Wrap
$29.00
Product Information:
The Beekeeper 3 Pack - Vintage Flowers - S/M/L Beeswax wraps in a pack.
Small: 21cm x 26cm
Medium: 26 cm x 32 cm
Large: 34 cm x 38 cm
They are great for wrapping avocados, cheese, sandwiches, cut vegetables, covering bowls eg. a salad bowl and coconut bowls. There are so many uses. Beeswax wraps keep food fresh longer. Not for use with raw meat. Wrap it Up Bee Wraps are made from 100% Cotton fabric, local beeswax from their own and local beehives in Helensville, Organic Jojoba Oil and Pine Rosin.
The instructions on how to care and look after the beeswax wraps are on the back of their packaging. Reusable beeswax food wraps are a great alternative to single use plastic. Wrap It Up Bee Wraps are eco-friendly and biodegradable.
SKU: 10000-22